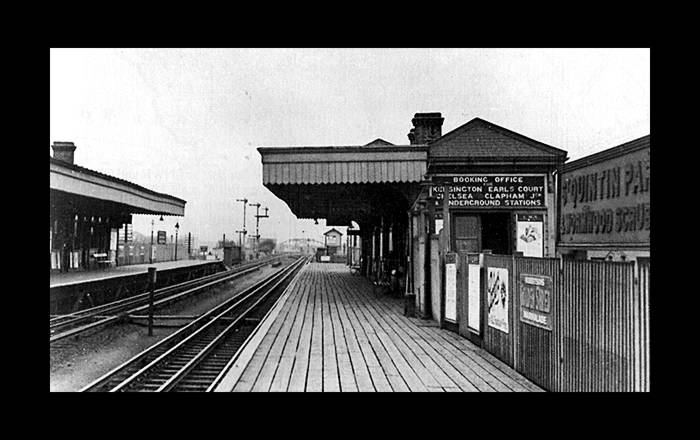 St. Quintin Park station.
The timber construction of the station proved its undoing when it was struck by an incendiary bomb on the 3rd Oct 1940.
These elaborations and reminisces are from Walter Coleshill:
The photograph of the old station is taken looking north; my reasons for stating that is that the ramp from the street connected with the station on the east side that is to say with the building which housed the booking office in the picture. In addition the signals at the far end of the left hand platform are those controlling: North Pole Junction and Mitre Bridge Junction. If you look carefully at the photograph an upward incline is detectable. This would agree with the conditions on the ground where the track rises as it nears Willesden.
The station was situated, high on a bank between two road bridges. They spanned Dalgano Gardens to the North and North Pole Road (NPR) to the South. The only station ramp I can recall started from NPR and ended on the east side (southbound) of the station close to where the booking office was. That is to say on the Bracewell Road side.
There may have been another ramp from NPR which allowed access to the northbound platform but I do not recall it. Nor do I recall a pax overbridge nor sub-rail tunnel to allow passenger to access the street. It would have been inconceivable for the authorities to allow pax to cross the electrified lines; nor would it have been possible when long, slow moving freight trains where passing through the station.
It is good to see the London rail network slowly (and with encouragement from TfL) to flower again. This is especially so when I recall that as early as 1875 there were five LNWR services from Willesden (underline next two words) Low Level via Kensington to New Croydon. These services called at all stations except, would you believe, Wormwood Scrubs.