The northern entrance in the late 1970s.
This view is looking south along Southampton Row.
Opposite view in 2009.

There was, in the mid-2000s, a Cross River tram scheme proposed, that would run along Kingsway. Despite
this tram tunnel being available for conversion back to its original use, it seems that it wouldn't
be used as such. Details here.

The point is moot however, as Boris Johnson, London Mayor at the time, stated that
funding will not be made available for the tram scheme. No surprise there then.
The northern entrance in 2003. For a commercial postcard photo of this entrance on Southampton Row before rebuilding, move your cursor over the image.

Inside the tunnel above looking south. This was originally built for single deck trams but was rebuilt for double deckers. The two original separate tunnels were combined to form this very large one.
(photo: 2003)

Approaching Holborn station.
(photo: 2003)

Holborn station on the right viewed from the southbound track.
The tunnel is used by Camden Council for storage (hence the street signs on the right).
(photo: 2003)

War time posters - original posters apparently but only temporarily attached to the wall by a film crew.
(photo: 2003)
Another temporary addition for filming purposes; this one in 2009 (with non-LUL formatting and font) was for the film The Escapist.

The exit at the northern end of Holborn station below ground...

(photo: 2003)
...and above ground in Kingsway, with Holborn tube station in the background.
(photo: 2009)

The southbound track at Holborn station.
In the centre is the island platform and the exit shown above. The northbound track is on the left but obscured in this photo.

(photo: 2003)

As above.
(photo: 2003)
2009 view showing the space for the northbound track on the left, not delineated from the central platform, unlike the southbound track on the right.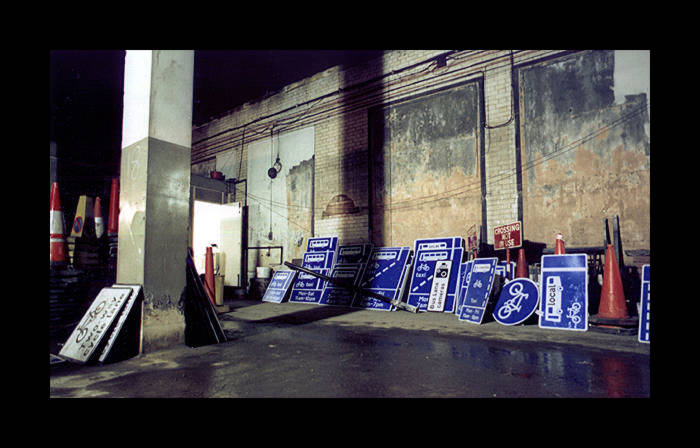 The northbound platform. In the centre of the photo, some sort of imprint from a LT roundel is visible.
For a commercial postcard photo of this station, move your cursor over the image.
(photo: 2003)
The northbound platform wall in 2009, with more props from the filming of The Escapist.
continues on next page...