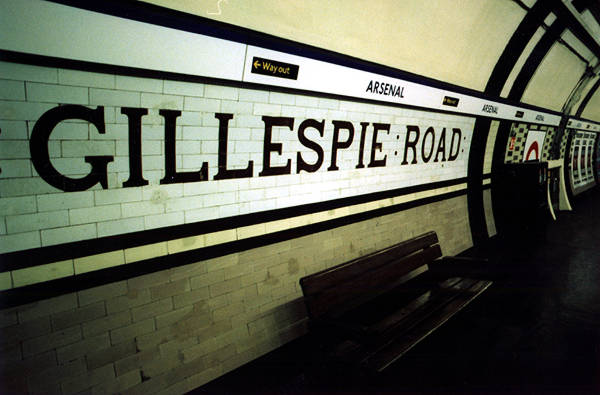 Another one is at Arsenal station, where the original Gillespie Road station name is visible.
The station name was changed to Arsenal in 1932.
This amusing suggestion (with geographical corrections) was posted on the uk.transport.london newsgroup by someone called Al:

Having wandered about Ashburton Grove, site of the new Arsenal FC ground, it occured to me that there are three roughly equidistant rail stations. I humbly suggest changing their names.
"Arsenal" on Plimsoll Road (Piccadilly) could become "Arsenal East", "Drayton Park" could become "Arsenal Central" and "Holloway Road" (Piccadilly) could become "Arsenal West".
If this can be arranged, I'd further like to suggest changing the LB Islington's name to "London Borough of Arsenal". Would that be okay?